About the Meetings Matter guide
Meetings are often an important part of our working and day-to-day lives. They are where ideas are discussed, issues are raised and decisions are made.
But for disabled colleagues and clients they can too often be frustrating experiences, if adjustments haven't been considered and put in place.
Our guidance Meetings Matter, provides advice on how to make simple adjustments to enable everyone to fully participate and contribute to meetings ensuring their success.
The guide is aimed at anyone who has responsibility for organising and chairing meetings and covers all aspects of organising a meeting from set up to on the day, to follow up arrangements.
It also reflects the fact that more and more people are now using technology to enable them to take part in meetings remotely and from anywhere in the world.
Find a sample of our Meetings Matter guidance (opens PDF document).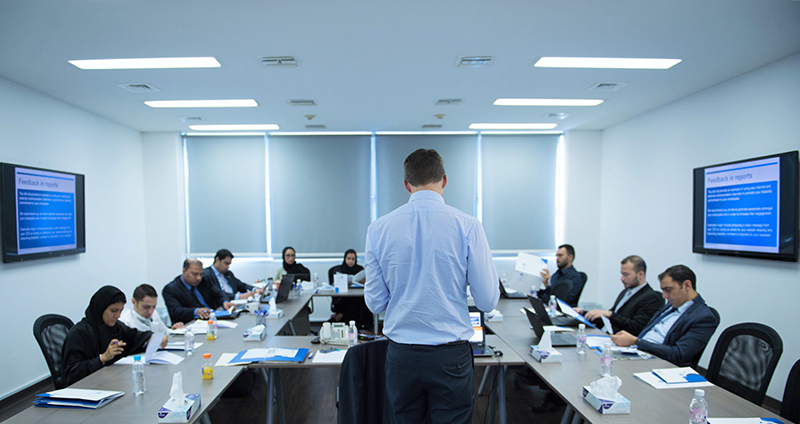 10-point meeting checklist
Before the meeting
Check if anyone taking part in the meeting has any

 additional

 requirements.

Send out information in advance so people can prepare. Include the agenda and maps, as well as information on public transport and accessible parking.

Build regular breaks into the agenda and stick to them.

Ask if any communication support needed and book it in advance.

Check the accessibility of your venue. Is there a working hearing loop or visual fire alarm? Know the location of lifts, ramps and accessible toilets.

Provide details of internet access. Some people may rely on internet access for adjustments.

Provide details of remote access facilities and check they work for everyone.
On the meeting day
Be ready to meet participants at the entrance to buildings, if required, so you can guide them.

Check before the meeting starts that everyone has everything they need and give an overview of how the meeting will work, including timings of breaks and refreshments.

Ensure everyone has the opportunity to participate. Ask participants to introduce themselves at the start of the meeting, including people taking part.
Prices and ordering
For more information about purchasing, contact Adrian Ward, Head of Disability Partnerships
About the Welcoming Disabled Customers guide
The spending power of disabled people in the UK is around £249 billion per year and set to increase as the number of people living with a disability grows.
Therefore, providing an inclusive and welcoming service for disabled customers and clients is a must for every business.
Disabled people want to access the same products, facilities, and services, as everyone else, and have a right to do so under the law.
In this guide, we will look at the role that you can play in making sure this happens.
This guide considers the needs and preferences of customers and clients with different disabilities and how you can meet them through the customer service you deliver.
Find a sample of our Welcoming Disabled Customers guidance (opens PDF document).
Our Welcoming Disabled Customers guide is for:
Customer and client-facing colleagues.
Customer service teams.
Colleagues with responsibility for developing and delivering new products and services.
Colleagues with responsibility for accessibility and inclusion.
Colleagues with responsibility for training and development.
Check out our 5 quick tips for meeting the needs of disabled customers.
Never assume the existence or absence of a disability.
Always ask the customer how you can best assist them.
Remember, to meet the customer's needs you may need to do things differently, but the standard of service you provide should remain the same.
Be aware of accessible facilities and equipment available, such as ramps and hearing loops.
Be prepared to offer and spend extra time with someone who might need it.
Download our 5 quick tips guide for meeting the needs of disabled customers:
Order Disability Awareness package
BDF Members and Partners can access the content from the Disability Awareness package free, as part of their membership. Find out more about the benefits of joining us
For more information about membership or placing an order for our Disability Awareness package, contact Adrian Ward, Head of Disability Partnerships