Some people with mental health conditions could be waiting for over a year for employers to put in place much needed workplace adjustments, new findings published today show.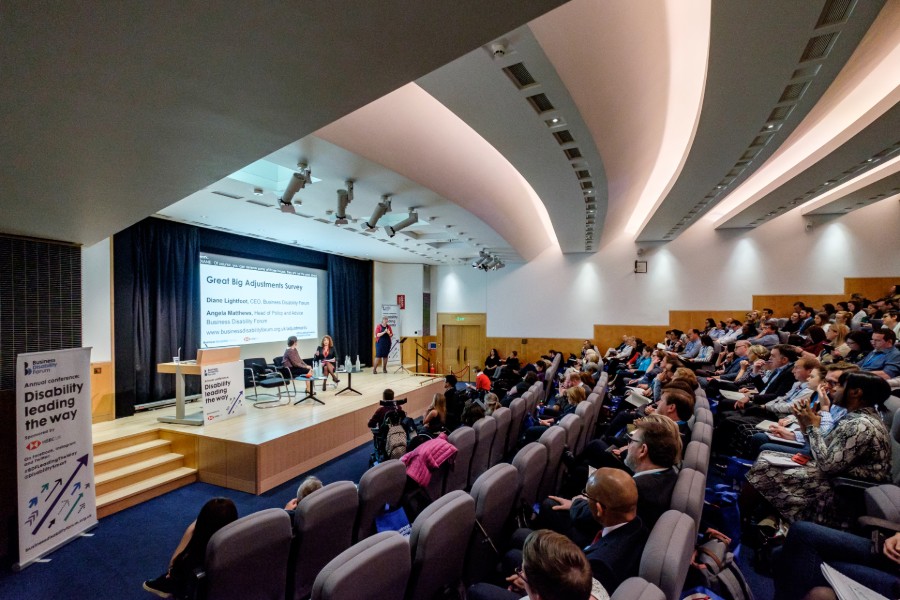 The findings come from The Great Big Workplace Adjustments Survey 2019, a comprehensive study of disability and long-term conditions conducted by Business Disability Forum and based on the views of over 1,200 employees and managers working with adjustments.
The new findings announced today relate specifically to the experiences of the 385 respondents with mental health conditions and/or workplace stress who took part in the study.
The responses show the following:
 65 per cent of respondents with mental health conditions had some workplace adjustments in place. Amongst these respondents, the most commonly requested adjustments were flexible working (56 per cent), time off to attend appointments or therapies (46 per cent), working from home (44 per cent) and equipment to support associated physical pain and discomfort (44 per cent).
Of those with adjustments in place, 92 per cent agreed that their adjustments had tackled some or all of the barriers they faced at work, 83 per cent agreed their adjustments had helped them stay in their job, and two thirds (63 per cent) agreed that they enjoyed their job more because of adjustments.
But, whilst a third (35 per cent) of those with adjustments had received their adjustments within a month of requesting them, two thirds (63 per cent) had had to wait longer. Responses showed that a fifth (20 per cent) of respondents with mental health conditions with adjustments in place had had to wait over a year to receive the adjustments they needed.
Business Disability Forum is releasing the findings to mark Mental Health Awareness Week and to highlight the need for businesses to take action to better support colleagues with mental health needs in the workplace.
Diane Lightfoot, CEO, Business Disability Forum, said:
"Our findings show the huge benefits that adjustments can bring both for individuals and for the organisations which employ them; breaking down workplace barriers, helping people to remain in employment and making working life generally more enjoyable.
"It is very concerning that some people with mental health conditions are having to wait so long for adjustments to be put in place. Such delays could negatively impact on a person's ability to carry out their job as well as having a detrimental effect on their mental health.
"We urge all businesses to review their processes to ensure that colleagues receive the adjustments they need as quickly as possible. Adjustments must not be viewed as 'a nice to have' but as an essential part of looking after staff and creating a happy, healthy and productive workforce."
To find out more about The Great Big Adjustments Survey 2019 and other findings available from the study go to https://businessdisabilityforum.org.uk/adjustments and follow developments at #AdjustOurWorkplaces
Business Disability Forum is a leading not-for-profit membership organisation which seeks to improve the life opportunities and experiences of disabled people in employment, economic growth, and society more widely. Find out more at https://businessdisabilityforum.org.uk/
For further information about the findings and to set up interviews/request additional comment, please contact sarahb@businessdisabilityforum.org.uk or call 07980616108.
Notes to editors
1. Business Disability Forum is a leading non-profit membership organisation which exists to transform the life chances of disabled people. With over 25 years' experience, it brings together business leaders, disabled people, and Government to understand what needs to change to improve the life opportunities and experiences of disabled people in employment, economic growth, and society more widely. Business Disability Forum provides practical, evidence-based, strategic solutions for businesses to recruit, retain, and provide inclusive products and services to disabled people. For more information, please visit https://businessdisabilityforum.org.uk/about-us/
Technical note
2. Business Disability Forum asked their membership organisations, partners and stakeholders, as well as the disability, HR and business press and social media to share a link to an online survey about workplace adjustments. The questionnaire explored the experiences and perceptions of getting, and working with, adjustments in the workplace. Employees and managers were asked to take part; the only criteria in place was that they should be UK based and that, if self-employed, respondents should be working with organisations on long term contracts.
3. The survey link remained open for four weeks from 11 March to 8 April 2019. Taking into account various routing to relevant questions, the average completion time was just under 10 minutes. In total 1287 respondents fully completed the survey. Many of the findings in this press release reflect the responses of the 385 respondents who recorded that they had mental health conditions and/or workplace stress at the time of the survey. Many of these respondents stated that they had multiple conditions that included mental health and/or workplace stress.
4. Of course, when an invitation to a survey is disseminated in this way, those who respond are self-selecting and will not represent the offline world or those who are not associated to the channels disseminating the survey link. This being the case, we cannot report the findings as a representative measure of behaviour and attitude across the whole of the UK. However, each and every response is someone's story and the feedback is incredibly valuable. This is a large body of evidence. Due to the fact that over 1,200 individuals took the time to share their thoughts and experiences, via the survey, we can build a very detailed picture of what is working in relation to adjustments and what challenges we still face. We now have the ability to give informed opinion on what adjustments are most common, what is needed, and the perceived value and importance of this process in the workplace.
5. We thank everyone who took time to complete the survey and give us their feedback. Further findings from the survey will be released throughout 2019 as a series of papers and a full research report. To find out more, go to https://businessdisabilityforum.org.uk/adjustments